Custom Made Orthotics


Understanding Your Feet
Your Score



Your Feet



Your Body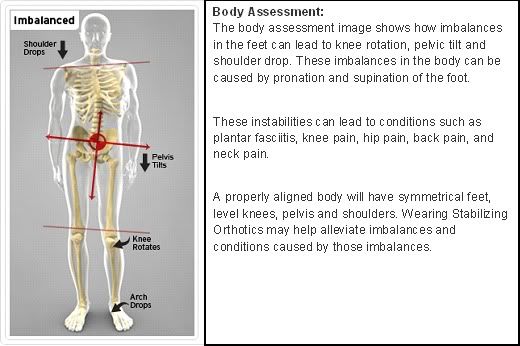 The Comparison
Be Supported The RIGHT Way
Most people think their foot only has one arch, when there are actually three:
Inner arch (Medial longitudinal arch)
Outer arch (Lateral longitudinal arch)
Across the balls of the foot (Anterior transverse [metatarsal arch])

The three arches are interconnected to form the plantar vault. Our Stabilizing Orthotics support the foot bones and muscles, which maintains the structure of the plantar vault to balance the entire body.
Over-the-counter orthotics support only one arch in your foot. When only one arch is being supported the problem shifts to another part of your body.





If you are considering individually designed Stabilizing Orthotics, a health care professional can perform a foot scan to show you how imbalances in the feet can lead to problems in the knees, hips, back and shoulders. The foot scan will show how Stabilizing Orthotics may help. Following a foot scan, a report will provide you a Pronation/Stability Index, a Foot Assessment, and a Body Assessment.




Foot Levelers custom-made Stabilizers provide the support you need for action, work, and play.




We strive to better your health from head to toe.




We offer Foot Levelers custom-made Spinal Pelvic Stabilizers that help bring your body back to its natural state of alignment. Stabilizers — a unique form of in-shoe orthotics help reduce skeletal stress and pain. Our office utilizes the Associate™ Platinum digital scanner, which is the fastest, most accurate, and most advanced method of processing your Stabilizer order.




Call us today to find out how we can help improve your total body wellness — from head to toe!


(415) 927-7030



Whether you suffer from:




Foot Pain

Heal Pain

Knee Pain

Hip Pain

Postural Imbalance




Or are you looking for Optimal Athletic Performance




Our digital state of the art foot scan will give you the information to help you. With this information we can create a custom pair of foot orthotics best suited for you and your specific needs.




The HEADACHE in your temple,

The CRICK in your neck,

The ACHE in your back,

The STIFFNESS in your knee,

The DISCOMFORT in your heel,

The IMBALANCE in your feet,

It's a CHAIN REACTION!




Your whole body needs proper support from the ground up.




Click the link below for information on Foot Levelers.





© Copyright 2010 Orcutt Chiropractic. All Rights Reserved.